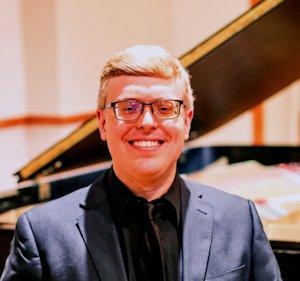 Pianist Adam Booher's musicianship has been described as "thrilling," and "full of emotional energy" (NashvilleArts). Mr. Booher frequently performs collaboratively, and in 2018, he performed as pianist with the Florida College Chorus in concert at Carnegie Hall's Stern Auditorium. Mr. Booher performs with cellist Dr. Carlos Audi, with recent and upcoming concerts occurring at universities and recital halls in Florida, Georgia, Alabama, Tennessee, and Texas. In 2020-21, Mr. Booher and Dr. Audi were selected to perform at the College Music Society Southeastern Regional Conference and the Florida State Music Teachers Association Conference. Mr. Booher serves as Professor of Music at Florida College, where he teaches applied piano and music theory. He has received three top-rated activities professor awards at Florida College, given to the teacher with the highest overall student ratings in non-lecture courses.
Active in state and local music teachers' associations, Mr. Booher serves as the state chair of Florida's MTNA Competitive Events. He regularly adjudicates state and district piano competitions and the National Federation of Music Clubs Auditions, and he has served as a test reader for Advance Placement Music Theory exams the last two summers. His students have won top prizes in the Florida MTNA competitions and the Tampa Young Artist Competition. Mr. Booher serves as president of the Mid-State Music Teachers Association and treasurer of the Florida State Music Teachers Association's District 9. Awards include first place in the Intersection of Jazz and Classical Piano Festival at West Virginia University, third place in the MTNA Southern Division competition, and first place in the Beethoven Club of Memphis Young Artist Competition. Mr. Booher received the Master's degree in Piano Performance from Florida State University, where he studied with Joel Hastings.
Dr. Amy Canchola has been studying voice for as long as she can remember. She loves singing across many genres and in many languages. It wasn't until she met her husband, Gil, that singing in Spanish took on a new meaning. Now, her passion for music needed to be interwoven with the Mexican culture she was immersed in. Dr. Canchola intended to leave her children with the legacy of their mother's music connected to the rich history of their father's heritage. Dr. Canchola focused her doctoral studies on Maria Grever, the first commercially successful Mexican-American female composer. Now, she strives to promote the performance and education of Latin-American and Mexican music. She owns Canchola Studio of Voice and teaches at Highland Park High School and Collin College. www.cancholastudio.com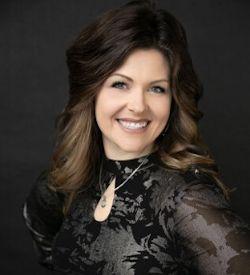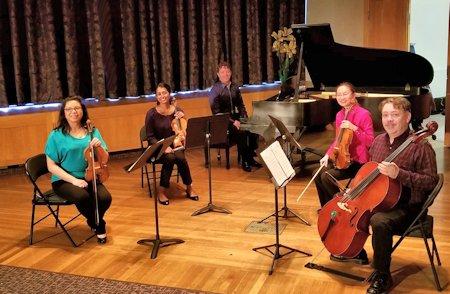 Boulanger Quintet: Sing-Yi Feng, violin; Lakshmi Ananthakrishnan, violin; Shan Su, viola; Matthew Lewis, cello; Noah DeGarmo, piano
The Boulanger Quintet was founded in April 2018 by an emergency physician, a pediatric emergency physician/medical toxicologist, a radiologist, a biomedical engineer and a medical student who all love medicine and music. They chose their name for their group for the early twentieth century French musician sisters - the Boulangers. Lili Boulanger was a talented composer and the first female winner of the prestigious Prix de Rome composition competition. She unfortunately passed away at age 24 from tuberculosis in 1918. Her sister Nadia was a famous composer, pianist, and pedagogue who taught such students as Philip Glass and Daniel Barenboim. We wanted to continue to convey their love of music and education. We are grateful for coachings from Mark Miller of Mount Vernon Music and Matthew Kline. We look forward to sharing our music with you!
Hailed as a pianist that displays "an expressive and unleashed interpretation, transcending all the technical challenges of the score…a gift to the audience" (Romanian Music Radio), Catalin Dima has established himself as one of the leading artists of his generation. Catalin performed in acclaimed venues including the Weill Recital Hall at Carnegie Hall, the Klavierhaus, the International House, and the Romanian Cultural Institute in New York City, the Cosmos Club and the International House in Washington D.C., the Preston Bradley Hall in Chicago, the Norwegian Academy of Music in Oslo, the Geneva Conservatory of Music, the Romanian Athenaeum in Bucharest, the Thalia Concert Hall in Sibiu, the Mihail Jora Philharmonic Hall in Bacau, the Oltenia Philharmonic Hall in Craiova, and the Pitesti Philharmonic Hall.
Catalin is a prize winner of numerous international piano competitions, including Karl Filtsch International Piano Competition (Sibiu), Pro Piano International Competition (Bucharest), Yamaha Piano Competition (Bucharest), Fr. Chopin International Piano Competition (Hartford, CT), and Shenandoah Concerto Competition (Winchester, VA).
His engagements with orchestras include concerts with the George Enescu Philharmonic Orchestra (Bucharest), the Pitesti Philharmonic Orchestra (Pitesti), the Washington Sinfonietta (Washington D.C.), the Shenandoah Conservatory Symphony Orchestra (Winchester, VA), and the Symphonic Winds (SOSU).
In his pursuit for innovative programming in concerts and recordings, Catalin combines mainstream and rare piano repertoire, often focusing on Romanian, American, and Japanese composers. Catalin worked with Pulitzer Prize-winning composers such as David Lang, Jennifer Higdon, and John Corigliano, and performed in concerts with distinguished music groups dedicated to contemporary music such as Edge Ensemble (Shenandoah Conservatory) and Great Noise Ensemble (Washington D.C.). Together with violinist Alexandru Malaimare, he started a duo project that includes lectures and concerts and promotes Romanian music throughout the U.S. Their engagements include tours in Indiana, Illinois, D.C., Virginia, Oklahoma, and Texas.
A frequent guest artist and adjudicator, Catalin Dima is a member of the Music Teachers National Association and College Music Society. He has served as a judge for festivals and competitions such as the Denison Piano Competition in Denison, TX, the 26th Washington Conservatory of Music Festival in Washington D.C., the NVMTA Piano Achievement Awards in Fairfax, VA, and the Shenandoah Conservatory Arts Academy Festival in Winchester, VA.
As a performer Catalin participated in renowned international music festivals such as International Keyboard Institute and Festival (NYC), Interharmony International Music Festival (Germany), and International Summer Academy Prague-Wien-Budapest (Austria).
A native of Bucharest, Romania, Catalin holds degrees from Shenandoah University (D.M.A.), Mannes School of Music (M.M.), and the Romanian National University of Music in Bucharest (M.M., B.M.). Currently Catalin serves on the music faculty at Southeastern Oklahoma State University. He is also the founder and the artistic director of the Texoma Piano Competition and the artistic director of the Musical Art Series at Southeastern Oklahoma State University. When he is not working, Catalin enjoys swimming, biking, camping, and hiking in the mountains.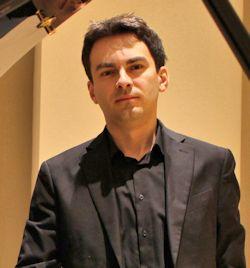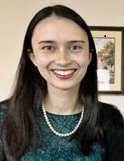 Colleen Kilpatrick Mathew earned a Master of Music in Collaborative Piano from the University of North Texas in 2019 and a Bachelor of Arts in Music from Ave Maria University in 2016. While a student at UNT, she was the accompanist for University Singers and Women's Chorus, and served as staff accompanist and coach at AMU from 2016-2017. A lover of opera, Ms. Mathew was rehearsal pianist for The Magic Flute and keyboardist for L'incoronazione di Poppea at the Miami Summer Music Festival in 2019. She has performed in masterclasses with Margo Garrett, Susan Youens, Margaret Singer, and Roy Howat, among others, and is a staff pianist at Southern Methodist University in Dallas.Ms. Mathew loves to shareher passion for the piano with students of all ages, and has been teaching privately since 2009. Also a trained organist and soprano, she has held several church positions in the Dallas-Fort Worth area and her native Southwest Florida.
A native of Jackson, Mississippi, Chris S. Brunt holds music degrees from Millsaps College (B.M.) and Westminster Choir College (M.M.), has studied at the Royal School of Church Music (London, England), and has done post-graduate work in music history at the University of Mississippi. He most recent appointment is as full-time organist at Custer Rd. UMC-Plano, TX. Prior to joining the CRUMC staff he was Music Associate-Resident Organist/Director of Cox Chapel Music at Highland Park United Methodist Church in Dallas, TX (2001-2015). At HPUMC Chris worked in all aspects of the church music program, playing for more than 3000 services, and participating in over 50 concerts. As a regular organist-pianist in the DFW area Chris has played in more than 50 churches/worship venues. He has assisted several area choral groups through the years including The Highland Park Chorale, The Dallas Choral Festival, Verdigris Ensemble, Vox Humana, The Dallas Chamber Choir, The Arts District Chorale, Project Eve, Orpheus Chamber Singers, The Allen Symphony Chorus, and The Dallas Symphony Chorus. He is presently serving as Dean of The Dallas Chapter of the American Guild of Organists.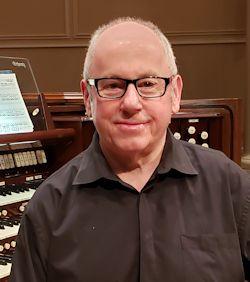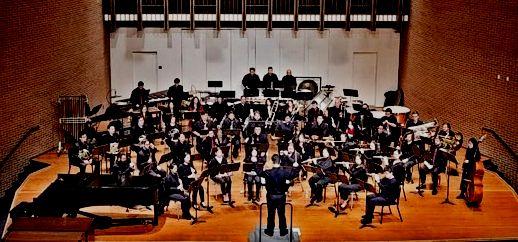 Dallas Asian Winds – Jun Moo Lee, conductor
Founder and conductor is Jun Moo Lee. In 2018, Jun Moo brought together some of his friends with an ambitious (some may say crazy) idea- to start an ensemble that is primarily made up of Asians musicians and one that will promote and progress pieces written in Asia or by Asian composers. After months planning, the group had its premiere concert on February 2nd, 2019.
This a new group with big ambitions! The ensemble performed at the 2019 K Pop Together Festival and was invited to the 2020 Seonam International Wind Festival. Keep an eye out for what's to come!
Eldred Marshall began studying the piano at age six and played in public by age seven. His prodigious and inquisitive mind allowed him to master large swaths of the piano repertoire quickly as well as consistently win top prizes at the competitions he entered as a child. By 16, he debuted with orchestra, playing Brahms's Piano Concerto No. 2 with the Victor Valley Symphony Orchestra. Before entering into Yale University, where he graduated with honors with a B.A. in Political Science, he had already performed all over the United States.
The critically-acclaimed pianist has performed internationally: Spain, Italy, the Republic of San Marino, Belgium, Germany, Romania, Bulgaria, the Ukraine and the People's Republic of China. He has performed the entire cycle of 32 Piano Sonatas of Beethoven in public, from memory, as a concentrated series, twice. In the 2015-2016 Season, he toured extensively through Texas with two all-Bach piano recital programs, one of which included the Goldberg Variations. In 2016, he was named a semi-finalist in the Ninth J. S. Bach International Piano Competition in Würzburg, Germany. Orchestrally, conductors with whom he has collaborated orchestrally include K. C. Manji, Carlo Ponti, Beau Benson, Greg Grabowski, Michelle Merrill, Jonathan Moore and Jessica Morel.
As an orchestral conductor, Marshall has led several international ensembles: the Ukrainian State Academic Orchestra (Kiev, Ukraine), the Kharkov Youth Symphony (Kharkov, Ukraine), the Pleven Philharmonic Orchestra (Pleven, Bulgaria), the Vidin Philharmonic Orchestra (Vidin, Bulgaria), the Filharmonica Oltenia di Craiova (Craiova, Romania), and the Constanta "Black Sea" Philharmonic Orchestra (Constanta, Romania). In the United States, he has worked as the conductor for the Riverside (CA) Opera Institute's Children's Opera Division, and has served as assistant conductor of the Meadows Symphony Orchestra at Southern Methodist University (SMU) and the Opera dell'Arte Ensemble (NYC). Further, he has collaborated with the University of North Texas (UNT) Symphony Orchestra.
Marshall earned his D.M.A. in Piano Performance degree at UNT in 2018. He also holds three M.M. degrees from SMU: piano (2011), organ (2012) and orchestral conducting (2013).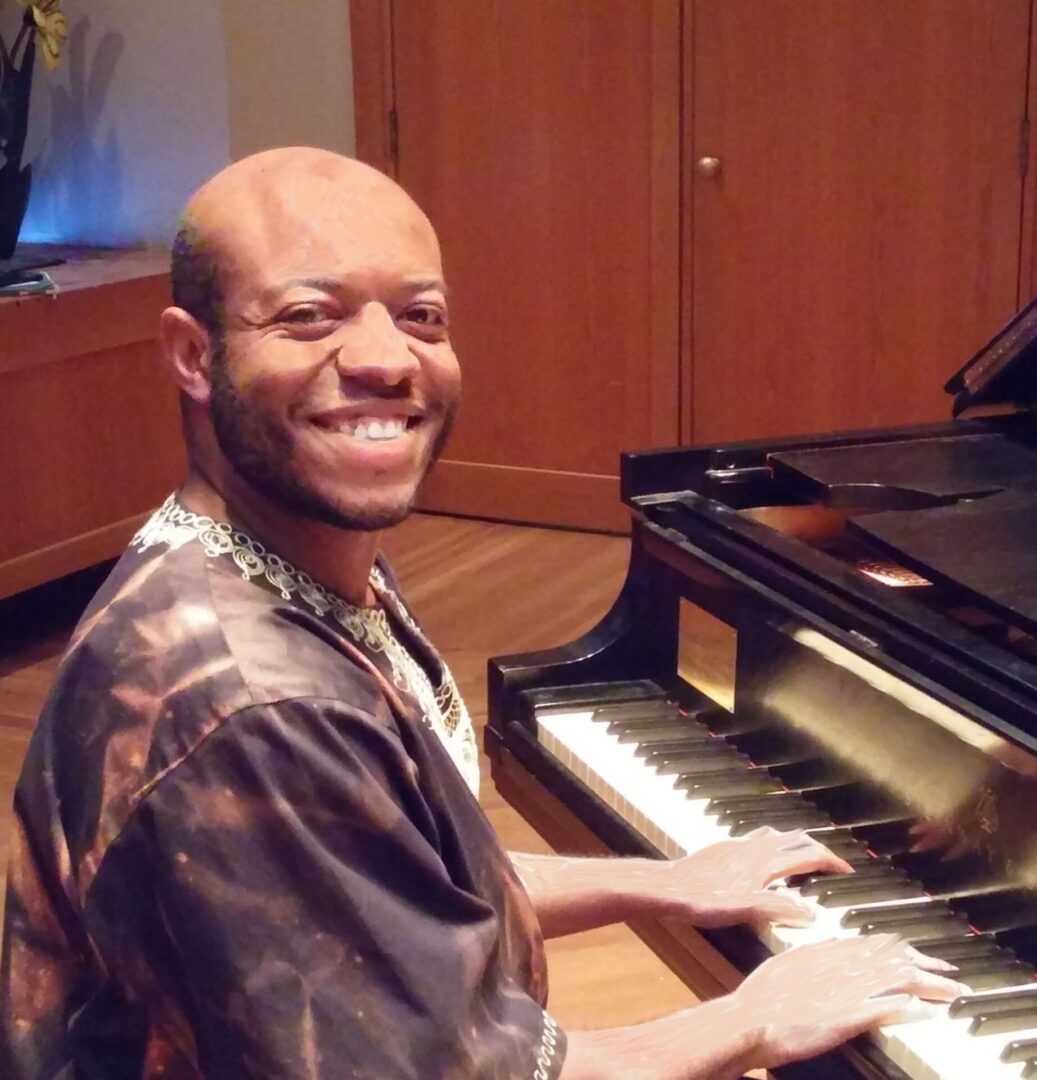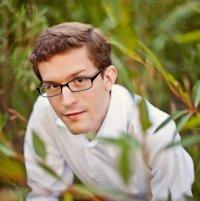 Pianist Evan Mitchell's recent highlights include debuts on the prestigious Dame Myra Hess Memorial Concerts series (Chicago), at Merkin Concert Hall (NYC), and at several major venues in Shanghai. He has played concerti with the symphony orchestras of Dallas and Fort Worth, among others, and collaborated in recital with such major figures as double bassist Gary Karr and clarinetist Corrado Giuffredi. In the 2016-17
season Evan soloing with the Sherman Symphony Orchestra (Brahms - Concerto No. 2), performing on Cliburn at the Modern concerts in both fall and spring, returning to Mount Vernon Music, and much more. Evan's new recording with bassist Szymon Marciniak is earning rave reviews; most recently, Bass World called their performances "intoxicating," deeming this "a seminal recording." Evan is also featured on the 2012 release "Piano de Pampa y Jungla: A Collection of Latin American Piano Music." Since June 2014 Evan has been a TCA Texas Touring Roster Artist, and over the past four years he has given more than 150 performances for Cliburn in the Classroom. Evan is recently completed his doctorate at Texas Christian University. Visit his site: www.evanmitchell.net.
Violinist Hyejin Lee is dedicated to her career as both an active performer and a passionate professor. She was born in Daegu, South Korea where she began her musical studies at age eleven.
Hyejin Lee completed her doctoral degree in violin performance and minor in music and medicine at the University of North Texas having been awarded the University Graduate Scholarship, College of Music Scholarship, Anshel Brusilow Scholarship in Orchestral Studies, and The Lupe Murchison Foundation Scholarship. Ms. Lee received the University Graduate Scholarship at the University of Cincinnati where she completed her master's degree in violin performance. She also received the Suzuki Method Violin Teacher Training Certification in Ohio.
Hyejin is a prize winner in numerous national and international music competitions in the United States, the United Kingdom, Europe, and South Korea, including the East Coast International Competition, American Protégé International Music Competition, New York International Competition, London Grand Prize Virtuoso International Competition, IMKA Music International Competition, Golden Classical Music Awards International Competition, Korea and Germany Association Competition, Seoul Shinye New Musician Music Competition, Korean Music Association Competition, Daegu Philharmonic Orchestra Competition, Daegu Catholic University Music Competition, and Daegu Music Association Competition.
She made a debut performance in Weill recital hall at Carnegie hall in 2018. She also was invited to perform in Stern Auditorium and Weill recital hall at Carnegie hall in 2019. Ms. Lee has attended the France Courchevel Music Alp International Festival, Russia Glinka Novosibirsk State Conservatory International Festival, and Italy Spoleto Music International festival.
She was a Teaching Artist of the Dallas Symphony Orchestra's Young Musicians Program and served as the first violinist at Richardson Symphony Orchestra and Sherman Symphony Orchestra. She also was a violin & viola instructor at Carrollton ISD and Frisco ISD, and a faculty at Music Institute of Texas and China Weihai Music International camp.
Hyejin Lee is currently an Adjunct Professor at Tarrant County College, Southwestern Baptist Theological Seminary, Southwestern Music Academy, and a member of Texas Community College Teachers Association, Texas Music Educators Association, and the American String Teachers Association.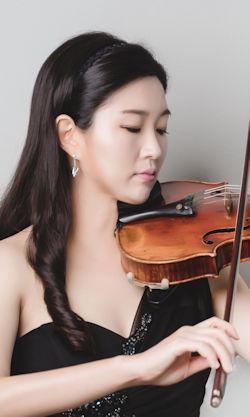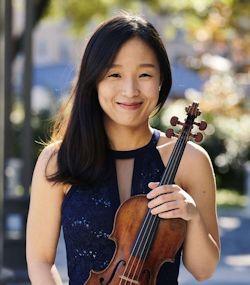 Hyun Jeong Helen Lee has captivated audiences throughout the United States, Canada and Asia. Leading into her conservatory studies, she attended the Interlochen Center of Arts in the summer of 2009. While there, she was concertmaster of the World Youth Symphony Orchestra for two terms. As a soloist, she has performed with the Chichibu Festival Orchestra, Royal Oak Symphony Orchestra, and the Boston Conservatory String Ensemble as winner of the String Ensemble Concerto Competition. Helen was also a winner of Boston Conservatory's prestigious String Honors Competition. Helen has performed in masterclasses for artists including Phillipe Quint, Jorja Fleezanis and Joseph Silverstein. She is a graduate of Boston Conservatory, where she studied with Markus Placci. Helen received an Artist Diploma in the John J. Cali School of Music Graduate Quartet-in-Residence program as a student of Weigang Li of the celebrated Shanghai Quartet. Recently, as part of the Peak Fellowship, she served as a Teaching Assistant and Assistant Chamber Music Coach at the Meadows School of the Arts at Southern Methodist University.
Violinist Hye Ryun Cha has appeared as soloist and chamber musician in concert, festivals and master classes throughout the United States, Europe and Korea. She was often invited by festivals, chamber concerts and orchestra include East-Asia Contemporary Music Festival and Youngnam International Music Festival, and soloist with Kimcheon Philharmonic Orchestra and Slovak Philharmonic Orchestra. She won the prizes from several competitions and awarded honors from schools and festivals.
She taught at Keimyung University, Changwon National University and Kyungbuk Art High School as a violin instructor. She served as a concertmaster for Daegu MBC Symphony Orchestra. After receiving her Bachelor degree with full merit scholarship from Keimyung University, she went to Chopin Academy in Warsaw Poland and received Master of Arts degree. In 2006 she came to US and studied at Indiana University School of Music with music merit scholarship, where she earned a Master of Music degree and Performer degree. She earned Doctor of Musical Arts degree at Boston University where she studied with Bayla Keyes. She was also a teaching assistant while pursuing the degree. Her former teachers include Ik-Hwan Bae, Janusz Kucharski, Maria Orzechowska. Through master classes, chamber coachings and music festivals, she has studied with Dong-Suk Kang, Michaela Martin, Janos Starker, Menahem Pressler and Andre De Groot.
She now resides in Dallas with her husband and 5 year old daughter. She continues her career as a violinist and an educator and serves as a concertmaster at Dallas College Brookhaven Chamber.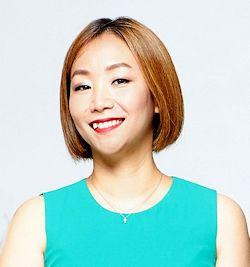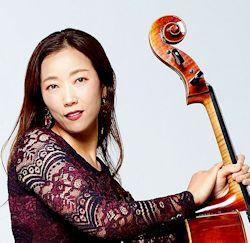 Cellist Hyun mi Cho was born in South Korea and started her musical education in the age of 6. She completed her degree of M.M. and D.M.A. at the University of North Texas and studied with Prf. Eugene Osadchy. She is a specialist in Early Music performance which was her minor at UNT and she had participated in Boston Early Music Festival several times. Hyun mi has been zealous in teaching and actively involved in musical education since 2000. Also, she taught students as an adjunct professor in the School of Church Music at South Western Baptist Theological Seminary from 2019 to 2021. Currently, she is pursuing another doctoral degree in the field of Biblical Counseling at SWBTS.
Hyun mi is continuing her musical activities in various musical genres including orchestra, chamber music, classical and contemporary piano trios. She shares her performance of spiritual songs in her YouTube channel "CelloHymn."
Jane Fore maintains a private flute studio for students in Plano and Frisco ISD. She also serves at Custer Road UMC in Instrumental/Handbell Music Ministry, involving volunteers of all ages in ministry. She is a member of the Texas Flute Society, National Flute Association, and Texas Music Educators. She enjoys playing alto flute with Flute Suite--a professional flute choir in Plano. Jane and her husband, Dave, love spending time hiking in Colorado every summer.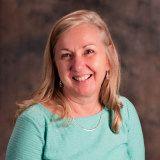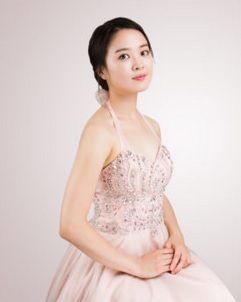 Praised by Fanfare magazine as "a pianist with extraordinary pianism and artistry by any measure or standard," Dr. Kwon has performed concerts in recitals and symphonic programs internationally, including Carnegie Hall in New York, Seoul Art Center in South Korea, Murchison Performing Arts Center in Texas, and Tambov Grand Concert Hall in Tambov, Russia.
Dr. Kwon's solo debut album "Music by Chopin & Liszt" includes short pieces by the two renowned composers and is sponsored by the Texas Chopin Society. This solo album was released by Centaur Recording in Spring in 2021. She has received critical acclaim from classical music magazines including the Eumak Jurnal and Fanfare Magazine, as well as major newspapers including YTN and KTN. Dr. Kwon looks forward to her second solo album in 2022 with the Sheva collection in the UK.
As a lecturer, she served as a music professor at Dallas College, teaching music to college students. Currently, she works at Tarrant College as a staff pianist and music director for the Milal Orchestra. She is also a piano teacher who runs her own studio, teaching hosts of talented students who have won many national and international competitions. Many of her students went on to international and national music schools including Yonsei University, Sangmyung University, Yewon School, Sun-hwa Art Middle and High School, Gyewon Art High School, and the University of Texas Arlington's master degree program.
As a jury member and guest artist, Dr.Kwon participates in music auditions for her community. She was invited to audition for a scholarship at the University of Texas at Arlington and took part in student scholarship processes. She also advised prominent college students sponsored by the Arlington Arts League. In addition, she was invited to a student music contest sponsored by the Corpus Christi Teachers' Association to judge outstanding music students in the Texas area.
Committed to bringing an inspiring concert program and classical music experience to a broader audience, she founded and now directs the Milal Orchestra and Milal Chamber ensemble, which provide musical opportunities to differently-abled individuals in Texas, New York City, Los Angeles.
Her musical projects are diverse and broad-ranging. Mostly recently: The 2021 Virtual Texas Flute Festival, 2021 Dallas Library Music Composition Workshop Concert, 2020-2021 concert season sponsored by Texas Chopin Society, the Mu Phi Epsilon Dallas Alumni Chapter concert series 2021-2022, and a recital at St Matthew's Lutheran Church in fall 2021.
As a soloist, she won several international competitions, including First Prize in International Competition of Romantic Music 2020 sponsored by America Protégé, First Prize in the 27th Fryderyk Chopin International Competition in Texas in the USA in 2019; First Prize in the 2017 IMKA Music International Competition at Sarajevo, Bosnia; Special prize at the 2017 International Cochran Piano Competition.
Dr. Kwon received her bachelor's and master's degrees in piano performance from Seoul National University under Professor Kwi-Hyun Kim, a scholar, teacher, pianist, and pupil of György Sándor, who served as the dean of the keyboard department at Seoul National University.
Kwon started her pianist career when she was an undergraduate student. She was invited by the Russia Tambov Symphonic Orchestra to perform the Grieg Piano Concerto op.16 with renowned musicians. After a successful debut, she performed a solo recital in BuAm Art hall and participated in a concert series in E-won Culture Center, South Korea. Before she graduated from Seoul National University, she participated in the concert series "Liszt's 200-birthday Celebration Concert" sponsored by the Korean Piano Society with famed music professors in South Korea. She was also invited to perform her solo recital in BuAm Art Hall. At that time, she met a professor, Gustavo Romero from University of North Texas and he invited and recruited her to come to Texas.
Jinah Kwon received her PhD in music from the University of North Texas at Denton this summer. In Denton 2017, she performed the Rachmaninoff Piano Concerto No.1 with the UNT Concert Symphony Orchestra as a winner of the concerto competition at Murchison Performing Arts Center while studying for her doctoral degree. She was also invited to perform at Carnegie Hall as a contest winner and received much acclaim.
Her dissertation "Franz Liszt as Transcriber and Editor: a Historical Overview and Analytical Study of his Three Versions of Franz Schubert's Wanderer Fantasy, D.760" is about a rare edition of Franz Liszt, and she continues to research and apply the project to her next solo. She will be recording a CD album based on this project with Timothy Jackson, her co-professor and a distinguished research professor of UNT.
Violist John Batchelder has delighted audiences across North and South America as a passionate chamber musician, recitalist and soloist. He has performed as soloist with numerous ensembles including the Hemenway Strings, Worcester Bach Consort and Plano Senior High Symphony Orchestra, and participated in various summer festivals and masterclasses such as the McGill International String Quartet Academy, Banff Centre Masterclasses, St. Lawrence String Quartet Seminar, Meadowmount School of Music, Apple Hill Center for Chamber Music, and Music from Salem Viola Seminar in Salem, NY. As a member of the award-winning Julius Quartet, formerly the Peak Fellowship Ensemble-in-Residence at the Meadows School of Music at Southern Methodist University, John has performed in such venerated venues as Carnegie Hall's Weill Recital Hall, Bargemusic, Moss Arts Center, Shalin Liu Performance Center, and Bing Concert Hall.
John has collaborated with such celebrated artists as Joseph Silverstein, Aaron Boyd, Andrés Cárdenes and members of the St. Lawrence, Shanghai, Baumer, Lydian and Escher Quartets. In 2011, John was a winner of the Kathryn W. Davis Projects for Peace grant for his program designed to help, encourage and teach music to the young children of the favelas of Natal, Brazil. John is a graduate of Boston Conservatory where he studied with Lila Brown, and of the John J. Cali School of Music Graduate Quartet-in-Residence program where he studied with Honggang Li of the Shanghai Quartet. Previously, he served as Artistic Coordinator at the National Arts and Humanities Youth Program Awards (NAHYP), and for the award-winning music education nonprofit Project STEP. Most recently, as part of the Peak Fellowship, John served as an Assistant Chamber Music Coach at the Meadows School of the Arts at Southern Methodist University.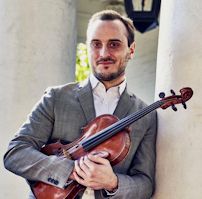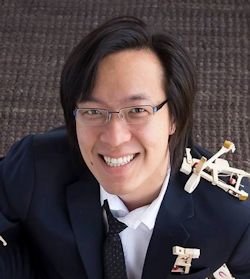 Soloist, collaborative pianist, chamber musician, producer, and arts administrator Jonathan Tsay maintains an artistic career as diverse as his interests. A recent multi-city tour of Taiwan included solo recital stops at the National Recital Hall in Taipei, Kaohsiung Music Hall, and the Pingtung Arts Center. Other recent solo engagements include performances for The Cliburn, Music at Southminster in Ottawa, Blanco Performing Arts, and Fine Arts Chamber Players. In Fall 2019, Jonathan was appointed Visiting Assistant Professor at the Rudi E. Scheidt School of Music at The University of Memphis.
A sought after collaborator, Dr. Tsay has also performed alongside some of the world's premier musicians, including Chee-Yun, David Cooper (Principal Horn, Chicago Symphony), Jing Wang (Concertmaster, Hong Kong Philharmonic), dramatic soprano Alessandra Marc, Chloé Trevor ("musical ambassador to Generation Z"), the Cézanne Quartet, and Nathan Olson (Concertmaster, Dallas Symphony Orchestra). Jonathan has served as Principal Keyboard of the Las Colinas Symphony and the Dallas Chamber Symphony. Jonathan also serves as Artistic Director of Ensemble75, a chamber music series based out of Dallas, Texas.
Jonathan's recordings can be found in Brahms - A Listener's Guide: Unlocking the Masters Series, as well as on Chloé Trevor's album Immortal. A solo CD, Portfolio, was released in 2009, and Jonathan's collaborative album Harmonic Allusions was released in September 2017 and was named a "Top 5 Classical Album" by TheaterJones. Away from the piano bench, Jonathan is the host of the classical music podcast entitled "Between the Barlines" which explores the lives of the various personalities that make up the classical musical landscape.
Increasingly popular as a masterclass teacher, Dr. Tsay has given masterclasses at institutions such as Taiwan National University of the Arts, Kaohsiung Normal University, Stephen F. Austin State University, Seattle University, and University of Texas Rio Grande Valley. Dr. Tsay serves as Head of Piano for the Chloé Trevor Music Academy, a summer music intensive that draws over 100 students from over 20 countries each year. He has served on the screening jury for the Dallas International Piano Competition as well as adjudicator for numerous competitions including the Texas Music Teacher's Association Solo Competition and Austin Youth Music Ambassadors.
Dr. Tsay started his piano studies with Carolyn Savko at the age of five. Under the tutelage of Dr. Carol Leone, Jonathan earned a Bachelors of Music with Honors at the Meadows School of the Arts at Southern Methodist University. Jonathan entered l'Université de Montréal as a Masters of Music student of Marc Durand, and received his doctorate through an accelerated program. Jonathan's musical background also includes composition studies with Simon Sargon and David Karp, and conducting with Jack Delaney and Paul Phillips.
Lakshmi Ananthakrishnan, violin
Lakshmi Ananthakrishnan has played the violin for over 30 years. She was an avid musician throughout her childhood in Kentucky, performing and soloing with local orchestras and chamber music ensembles. She received a degree in violin performance at the University of Louisville in 2000, studying under Peter McHugh. She then shifted paths to pursue a career in medicine, receiving a medical degree from the University of Louisville in 2004. She completed her residency training in Diagnostic Radiology at the Cleveland Clinic in 2009 and a fellowship in Abdominal Radiology at Northwestern Medical Center in 2010.
During her medical training, she continued to play violin with community orchestras and chamber music groups. She performed with the World Doctors Orchestra in 2009 in Cleveland, and with the World Civic Orchestra in 2010 and 2012 in New York. Lakshmi is now a practicing abdominal radiologist at the University of Texas Southwestern Medical Center in Dallas. She is excited for her chance to renew her love of music by performing with the Boulanger Quintet.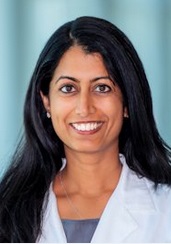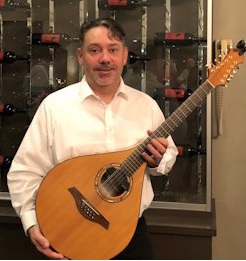 Matthew Allen Lewis, Ph.D. studied mathematical physics at Case Western Reserve University in Cleveland, Ohio, where he was a member of the University Circle Chamber Orchestra (for non-music majors) and local rock band thieves like us. He received his Ph.D. in Radiological Sciences in 2002 from UT Southwestern Medical Center, where today he serves on the faculty of the Department of Radiology as a image scientist working with emerging medical imaging modalities such as spectral CT and ultrasound tomography. In 2018, he enjoyed playing the liuto cantabile in the mandocello section of the Classical Mandolin Society of America En Masse Orchestra in Santa Rosa, California.
Mark Miller is Concertmaster of the East Texas Symphony Orchestra, violinist Mark Miller also performs with the Fort Worth Symphony Orchestra and other area ensembles. He is a founder and president of Mount Vernon Music Association, a membership-based nonprofit devoted to bringing outstanding performances of classical, cultural and jazz chamber music to underserved audiences in rural Northeast Texas. He also co-directs the chamber series "The Color of Sound" at Texas A&M University – Commerce, where for eleven years he taught and performed as an Artist-in-Residence with his wife, violist Ute Miller, and the ensemble Duo Renard. Following studies at SUNY Purchase, Indiana University - Bloomington and Boston University, he studied with Jürgen Kussmaul in Germany, where he was assistant concertmaster in the Robert Schumann Kammerorchester of Düsseldorf and a member of the Orchester der Beethovenhalle Bonn.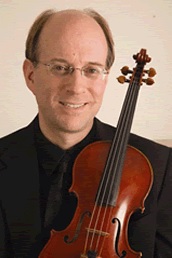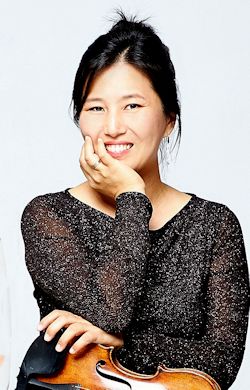 Violinist Mikyung Kim Kwon received her Doctoral degree in Musical Arts at Rutgers University as a recipient of full scholarship, Master's Degree at the Juilliard School and Bachelor's Degree from Oberlin Conservatory of Music under the tutelage of Robert Mann, Kyung Sun Lee, and Philipp Quint.
Ms. Kim Kwon has performed numerous recitals and concerts in the past few years across the world, domestically in the New York City metropolitan, San Francisco, Philadelphia, Cleveland, Sarasota and New Brunswick, and internationally, in Austria, China and Korea. In the States, her performances include high profile venues such as Carnegie Hall, Alice Tully Hall, Avery Fischer Hall, Peter Jay Sharp Theatre, Paul Hall at Lincoln Center, Merkin Hall, Gordon Auditorium, Severance Hall, Kimmel Center for Performing Arts, among others. She has served as a concertmaster at the Juilliard Chamber Orchestra and Rutgers Symphony Orchestra, and principal player at Oberlin China tour Orchestra. In 2007, she performed in Liederkranze Hall in NYC as a prize winner of the Joyce Dutka Competition.
Ms. Kim Kwon has served as a leader of New York Classical Symphony Orchestra, section violinist at Symphony in C, Clarion Music society, Ensemble 212, and New York Soloist Ensemble.
Alongside her solo and orchestra work, Ms. Kim has long been interested in chamber music and selected to participate and perform at Kneisel chamber music festival, Norfolk chamber music festival, Sarasota music festival, and Aspen music festival. Furthermore, she performed chamber works with Oberlin Conservatory faculty artists including Kyung Sun Lee, Darret Adkins and Peter Takacs in the Cleveland area. Ms. Kim Kwon has also been invited to perform at Adonai Concert Series at Christ St. Stephen Church and Lenox Hill Neighborhood House in New York for 2016-2017 season, and Sonoma County Library Concert Series and Old St. Hilary's Landmark Concert in the San Francisco area for 2018-2019 season.
As a dedicated educator, Ms. Kim Kwon has served as an adjunct faculty at the Pre-college division of Brooklyn College and Lucy Moses Music School at Kaufman Center.
Currently, Ms. Kim Kwon is a member of Sherman Symphony Orchestra and teaches at Lebanon Trail High School and Rock Hill High School as a violin instructor. Ms. Kim Kwon resides in Frisco with her husband and their three adorable daughters.
Mount Vernon Music is a charitable organization that provides outstanding performances of live music to communities in northeast Texas - traditional chamber music, jazz and other styles as well as educational and family concerts.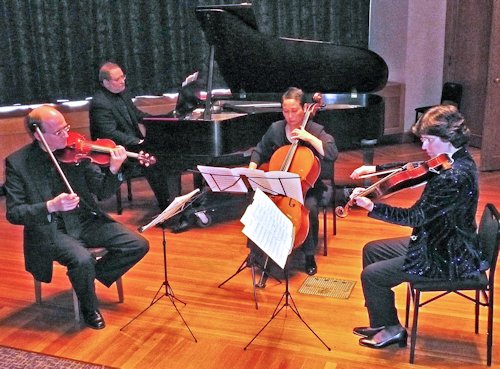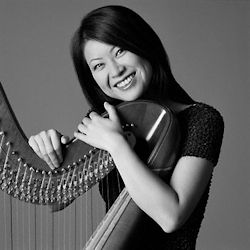 Naoko Nakamura, is the Adjunct Assistant Professor of Harp at the Meadows School of Music, Southern Methodist University and the Principal Harpist of the Dallas Winds. Since 1998, she has maintained an active performing and teaching schedule in the Dallas- Fort Worth area. In April of 2014, she performed the world premiere of Concerto for Flute, Harp, and Wind Ensemble by Damian Montano with the Dallas Winds. She is an active chamber musician, having appeared at the "Cliburn at the Modern" series, the Fine Arts Chamber Players in Dallas, the Chamber Music Society of Fort Worth, and the Chamber Music in the Galleries at the Trammell & Margaret Crow Collection of Asian Art. As a soloist, she has invited to perform in Japan, Hondura, Peru, and Costa Rica. At the Oberlin Conservatory of Music, she earned a Bachelor of Music degree in both Harp and Piano under the tutelages of the renowned harp pedagogue, Alice Chalifoux. She received a Master of Music degree in Harp Performance from the Shepherd School of Music at Rice University under the direction of Paula Page.
Noe Garcia, Classical Guitar
Noe Garcia's concert engagements have taken him to Spain to perform as part of the Camino Artes concert series. In Summer of 2017,18,19 Noe traveled to China for the third time and performed a series of concerts in Qinhuangdao, Jinan, Dalian, Suzhou and Beijing with his guitar trio, Trio Resonance. Noe is a top prize winner of international competitions and has performed in master classes for world-renowned artists such as Manuel Barrueco, Pepe Romero, LAGQ and Beijing Duo. Noe is passionate about music education and is currently working on doctoral studies at the University of North Texas where he was awarded a teaching fellowship. He loves and is dedicated to performing music from his home country and Latin America. He believes that, in this diverse and growing global society, music is a healing medium and can connect us to one another.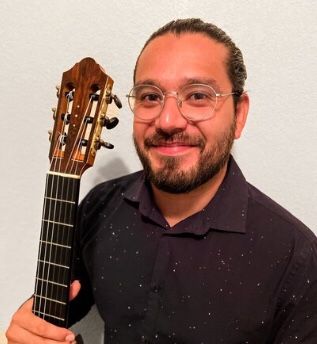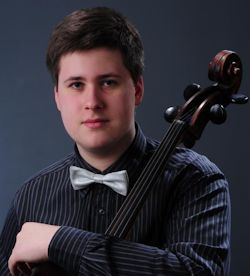 Sebastian Kozub, a native of Lublin, Poland, comes from a musical family. His father is a cellist and his mother a violinist. Sebastian began playing the cello when he was five, studied in the Purcell School of Music in London under Pal Banda and Sir Simon Rattle, and is a current Performance Diploma student of Andres Diaz at the SMU Meadows School of the Arts in Dallas. He is a prize winner of over fifty national and international cello competitions, including First Prize in the VIII. International Cello Competition Antonio Janigro, Croatia; Second Prize in the V.J. Dotzauer International Cello Competition, Germany; First Prize in the FLAME International Cello Competition, Paris; Second Prize in the Liezen International Cello Competition, Austria; Second Prize in the David Popper International Cello Competition, Hungary; Grand Prize in the International Strings Competition Bohdan Warchal, Slovakia.
Sebastian has performed in venues in the United Kingdom and around the world, including Royal Festival Hall, Queen Elisabeth Hall, Wigmore Hall, Goldsmiths Theatre, Royal Castle Hall in Warsaw, and Forbidden City Concert Hall in Beijing. Orchestras he has performed with include the BBC Symphony Orchestra, Amadeus Chamber Orchestra of Europe, Sinfonia Varsovia, National Orchestra of China, Kaunas Philharmonic Orchestra, National Chamber Orchestra of Slovakia, Lublin Symphony Orchestra among others. Sebastian is an active chamber musician having performed with artists such as Andrés Cárdenes, Yuja Wang, Teng Li and Aaron Boyd, and is the newest member of the Julius Quartet under the mentorship of Aaron Boyd and the Escher String Quartet.
Sing-Yi Feng is a pediatric emergency physician and medical toxicologist on faculty at UT Southwestern who rediscovered her love of the violin after a fifteen-year hiatus. She has studied with Rochelle Walton, Carol Amado, and currently, Mark Miller. She was a member of the Philadelphia Youth Orchestra and a previous winner of the Lansdowne Symphony Orchestra Young Artist Competition and performed Lalo's Symphonie Espagnol with them. In 2014, she participated in the Baltimore Symphony Academy, which resurrected her violin career. Since then, she has been in the Curtis Institute of Music Summerfest Chamber Music for Adults and the Manhattan String Quartet workshops. Dr. Feng is currently a member of the World Doctors Orchestra and has been part of the WDO's Munich/Salzburg and Dubai tours. She also participated in the WDO's tenth anniversary celebration in June 2018 with concerts at the Elbphilharmonie in Hamburg and the Berliner Philharmonie in Berlin. She also loves cooking and baking for friends and family, learning about fine wines, knitting, traveling, and running.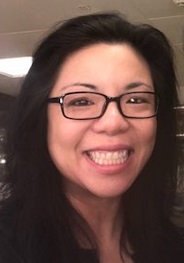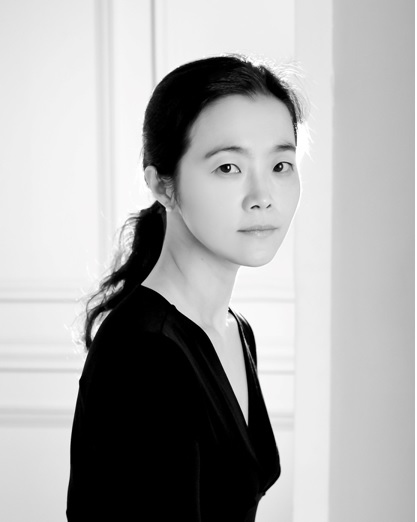 Pianist Sohyun Ahn was named the Best Concert of the Yearby Eumak-Chunchu, South Korea's leading classical music journal and has been described as a "an absolute master" by New York Concert Review.
In the States, her performance venues include Carnegie's Weill Hall, Alice Tully Hall, Merkin Hall, Steinway Hall, Klavierhaus, Dimenna Center, Beethoven Haus, Bechstein Hall, Hubbard Recital Hall, Juilliard School, Hunter College, Concordia College, Union Theological Seminary, Trinity Church, Saint Paul's Chapel, St.John's in the Village, InterChurch, Central Presbyterian Church, First Baptist Church, High Line Nine Gallery in New York City. She has also performed at Rutgers University, St. Elizabeth College, All Saints Episcopal Church, Madison Grace Church, Kirkpatrick Church, NV Hall, Nous Theater in New Jersey, An Die Musik in Baltimore, Bates Recital Hall at the University of Texas at Austin, Dame Myra Hess Memorial Concert at Chicago Cultural Center, Allegro Music Consultants Concert Series in Philadelphia, Jamestown Community Piano Association Concert Series in Rhode Island.
Her performances include appearances with the Queensboro Symphony Orchestra, the New Jersey Baroque Orchestra, Royal Scottish Academy Orchestra, the Korean Symphony Orchestra, the Seoul Tutti Orchestra and the Daejeon Philharmonic Orchestra. She was also a guest soloist at the concert honoring the 250th anniversary of Mozart's birth at the Sejong Art Center. Her performances and interviews have been broadcast nationally in South Korea on EBS-TV and live broadcast on Chicago's classical station WFMT. She has invited to perform at the W. Kempff Beethoven Course in Positano Italy, and the Ferrara International Music Festival Concert Series.
Frequently collaborating with NYC based musicians, Sohyun enjoys promoting the works of contemporary composers such as Alan Hovhaness, Michael Kosch, Chanhae Lee, David Loeb, John Musto, Juri Pang and Kyle Werner. Sohyun is also a chamber musician, performed with renowned instrumentalists, such as violist Eunsik Choi, Cellist Marion Feldman among others. She worked closely with New York Westside Opera, New Jersey Concert Opera, Pineda Lyric Opera, and performed over twenty complete opera productions from Mozart to Wagner.
Currently Sohyun is a Steinway Educational Partner and has taught at Rutgers, the New Jersey State University, Concordia College in New York and University of Texas at Austin. She also has worked as a director of Geneva Conservatory of Music in New York City. She received her Doctoral of Musical Arts Degree from Rutgers, the State University of New Jersey, Masters degrees with distinction from the Royal Scottish Conservatory and Tokyo Geidai Academy, and a Professional Studies Degree from Manhattan School of Music. Her performance credentials are further enhanced through prize winnings in international and national piano competitions, including the RSAMD Bach Competition, the Governor's Recital Competition, the Daejeon Philharmonic Concerto Competition, the Yongpyung Music Festival Concerto Competition, the New York Trinity Church Concert Audition, the International Asahi-Breweries Music Foundation Competition, the Yewon Music Competition. She was a finalist for the Dudley International Competition, and received the semi-finalist award from the Vianna da Motta International Competition.
In 2019, Sohyun gave the complete Mozart Piano Sonata Concert Series at St. John's in the Village, New York City. Her Bach Goldberg Variations CD is released in Sonoris Label and Mozart Sonatas CD is released in Classic Art Label and reviewed by New York Concert Review as "a perfectly balanced, crystalline performance."
This is her 5th season for the Mu Phi Epsilon Public Library Concert Series. More details at www.sohyun.org
Shan Su has played viola for 12 years and is a student of Dr. Susan Dubois. She has previously studied with Eva Lieberman, Sha Zhu, and Dr. Keith Redpath. Principal violist of the 2012 Texas All-State Symphony Orchestra and the 2011 and 2012 Honor Orchestra of America, Shan was a member of Carnegie Hall's 2014 and 2015 National Youth Orchestra of the USA (NYO-USA) under Maestros David Robertson and Charles Dutoit with soloists Gil Shaham and Yundi Li. Following acceptance into NYO-USA 2015, Shan was featured in the Dallas Morning News article "Richardson Violist selected for National Youth Orchestra" and in the Chinese magazine Music Lovers. Shan was the winner of the 2015 National Federation of Music Clubs' Wendell Irish Viola Award, and was awarded second place in NFMC's 2016 Collegiate Auditions. A speaker in the 2016 TEDxUTD conference, Shan shared a talk – When Music Meets Medicine. In 2018, she performed with the World Doctors Orchestra in Dubai. Shan is a third-year student at the University of Texas Southwestern Medical School.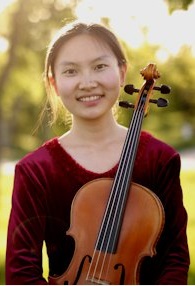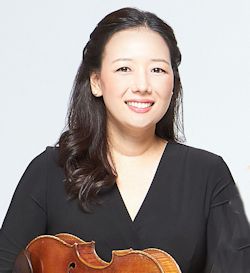 Equally passionate as an educator and performer, Ms. Rachel Kim has obtained Master of Music Education from Columbia University in New York, and Master of Music in Viola Performance from Manhattan School of Music, studying under New York Philharmonic violist, Robert Rinehart. Ms. Kim received a Bachelor of Music Performance and Performer Diploma from Indiana University Jacobs School of Music. As an active chamber and orchestral musician, Ms. Kim has worked with members of the Cleveland, American, Biava, and Tokyo String quartets and performed in festivals including the Heifetz International Music Festival, the Innsbrook Institute of Music, and Indiana University Summer Festivals. Ms. Kim was featured in orchestral and chamber performances at Weill Hall and Stern Auditorium in Carnegie Hall.
Ms. Kim currently serves as the Head Director of Orchestras at Panther Creek High School in Frisco ISD. Prior to starting this new orchestra program at the newest high school in the district, Ms. Kim taught as the Associate Director of Orchestras at Reedy High School for the past 4 years and taught 5 years as the Orchestra Director at Scarsdale Middle School in Westchester county, New York.

The Texas Flute Society is a non-profit organization organized for the purpose and objectives as follows: to further the activities and education of flutists in North Central Texas, to sponsor concerts, workshops, clinics, masterclasses, and festivals at which members and guest artists can perform and disseminate information, and to direct our efforts toward cultural and educational values in and for the general community, striving for activities with a public interest wider than that of members and contributors. The Texas Flute Society is organized exclusively for charitable and educational purposes.
The Texas Flute Society has been serving flutists, their families, and friends in north central Texas for over 30 years. Initially formed as a club of flute teachers working together to provide activities for their students around the Dallas/Fort Worth metroplex, the Texas Flute Society is now nationally known as an outstanding regional flute organization that puts on an annual festival that is larger in size and scope than any other regional flute event in the U.S.
In addition to the annual festival, the Texas Flute Society also sponsors between three and six other events throughout the year. Some are clinics directed towards one level or age-group (e.g., advanced high school students), while others are concerts or master classes that have wide appeal to flutists of all ages and skill levels. The Texas Flute Society publishes several newsletters throughout the year with informative articles and maintains a website that helps keep the members and area flutists informed. For more information, please visit www.texasflutesociety.org , or follow us on Facebook or Instagram @texasflutesoc.
The Texas Flute Society is organized for the purpose and objectives as follows:
The Texas Flute Society is organized exclusively for charitable, educational purposes. If necessary, we can be reached at the following address.
Texas Flute Society
PO Box 54202
Hurst, TX 76054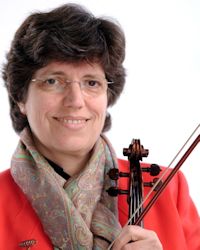 Ute Miller is the principal violist of the East Texas Symphony, performs frequently with the Dallas and Fort Worth Symphony Orchestras and has appeared as a soloist with the East Texas Symphony Orchestra. A founder and the Treasurer of Mount Vernon Music Association, Ute performs with her husband Mark in the violin-viola ensemble Duo Renard, which was brought to Texas with a National Endowment for the Arts Rural Residencies chamber music grant. She also produces the Color of Sound series at Texas A&M Commerce, where she was Artist-in-Residence. Ute's musical studies include the prestigious Konzertexamen diploma from the Robert Schumann Hochschule Düsseldorf, and a year at Boston University as a student of Raphael Hillyer. In addition to playing with the Frankfurt Radio Symphony, she served for seven years as assistant principal violist of the Gürzenich Orchester/Cologne Philharmonic, and for eight years as principal violist of the Dallas Opera Orchestra.